I am using One Year Bible Online for my daily Bible study. For today, One Year Bible Online links here. If you have any thoughts or comments regarding these verses or what I have written about them, please post them.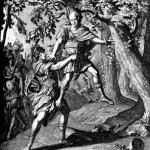 2 Samuel 18-19:10
David organized the men with him into three groups. One each under Joab and Abishai, his cousins, and one under Ittai, the man from Gath. David's initial plan was to go out with these three groups and command them from the field. His men objected, since the whole object of Absalom's army would be to kill David. If David's men were victorious on the battlefield but David was killed, they would lose the war. On the other hand, no matter how badly they were defeated on the battlefield, as long as David was alive, they had not lost the war. David accedes to their request that he remain in the city. When the battle begins, it is scattered throughout a forested area where more men died from the terrain than from enemy action. Absalom himself becomes a victim of the terrain. At one point Absalom comes upon some of David's men. He attempts to flee on his mule but his hair, which an earlier passage noted as one of his sources of pride, gets caught in a tree and he gets hung up from it. One of David's men sees this and takes word to Joab. Joab asks him why he did not kill Absalom and tells him that he, Joab, would have rewarded him for it. The soldier replies that he would not have killed Absalom for 100 times the reward that Joab said he would have given because he heard David request that the leaders spare Absalom and if he had killed Absalom David would have found out. The soldier is clearly familiar with what David had done to the messenger who reported that he had killed King Saul and the men who killed Ishbosheth. Joab then goes and kills Absalom himself.
After the death of Absalom ends the battle, Ahimaaz, one of the spies who brought news of Absalom's plans to David, asks Joab for the honor of bringing news of the victory to David. Joab tells him that David will not honor the one who brings this news and sends an Ethiopian with the message. Ahimaaz continues to beg Joab for the privilege of taking the news to David. Joab finally consents. Ahimaaz takes a less direct, but also less arduous, route to where David is waiting and arrives minutes ahead of the Ethiopian. Ahimaaz tells David that the battle is won. When David asks about Absalom, Ahimaaz tells him that there was a commotion when he set out, but he did not know what it was about. When the Ehtiopian arrives, he tells David that Absalom is dead. Upon hearing this news, David goes into mourning. When word gets out that David is mourning, the returning soldiers stopped celebrating their victory and started behaving as if they had deserted the battlefield. Joab goes in and rebukes David warning him that if he continues like this his troops will desert him in truth. David heeds Joabs rebuke and goes out and takes up a position in the town gate.
Absalom dies because of his pride and his vanity. The first issue is his pride. Absalom was leading his forces against David's forces, despite having no previous combat experience, in part because of his pride. When Ahithphel advised him to send out troops immediately after David, part of what convinced Absalom to follow Hushai's advice to wait for more troops was that Hushai also advised Absalom to lead the troops himself. So, here we have Absalom out on the battlefield. The second issue is his vanity. In an earlier passage we are told that he only cut his hair once a year when it became too heavy. In the same passage it tells us that Absalom was a handsome man. It is clear from that passage that Absalom took a lot of pride in his appearance, in particular his long hair. On this occasion, his pride in his long hair causes him trouble because his hair gets tangled in a tree and he cannot flee from David's men.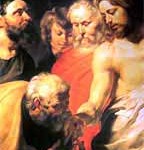 John 20:1-31
John records that the first person to witness Jesus' resurrection is a woman and that Jesus sends her with a message to the disciples. This is in a culture where women are considered unreliable witnesses. You would think that if the disciples were making up the story about Jesus' resurrection, they would have chosen to make the first witnesses more credible. In addition, even after receiving the news, Jesus finds the disciples cowering in fear of the Jewish leaders behind closed doors.
When Jesus does appear to the disciples, He shows them the wounds in his hands and in his side. John recounts an interesting teaching here. Jesus tells the disciples that if they forgive anyone's sins, their sins are forgiven, but if they do not forgive anyone's sins, they are not forgiven. I am not quite sure what He meant by that. What if Peter forgave someone's sins, but Andrew did not? I think that it emphasizes the importance of us forgiving others. I, also, think that Jesus was telling the disciples, and us, that we had the authority to do as He had done during His ministry where He had told someone that their sins were forgiven. We, also, have the authority to tell someone that their sins are forgiven. This is also in the context of John's relating of the Great Commissioning where Jesus is sending the disciples, and, by proxy, us, into the world to preach the Gospel. Jesus sends them into the world in the same manner that He was sent.
Then we have the story of Thomas who was not there when Jesus appeared to the disciples the first time. He expresses that seeing is not enough, he needs to be able to touch the wounds to believe they are real. Thomas represents those who stoutly aver that they will only believe that which they can experience with their five senses. I have heard it said that when someone asks you for proof that God exists the first thing you need to do is ask them what they will accept as proof. Here Thomas says what he will accept as proof of Jesus' resurrection. When Jesus appears to Thomas, He immediately offers him that proof. It is interesting to note that in the end, Thomas did not require the proof that he had said was necessary before he would believe. When Jesus appeared to Thomas and offered the proof, Thomas cries out, "My Lord and my God," without actually putting his finger in the nail wounds or his hand in the spear wound. I think this is important, once someone has acknowledged that there is something that could prove to them that God exists, the exposure to the Divine is often enough to convince them, even if it is less than what they had said before hand would be necessary. Of course, if Thomas had still required that proof, it was available to him. I believe that once we are willing to accept something as proof of God's existence, God will provide us with that proof. Sometimes He will do so even when we are not really willing to accept that proof. I heard a story some time back that illustrates this:
A philosophy professor was talking to his class about his belief that there was no God. He said that he would illustrate his point. He got up on his desk and called out to the ceiling, "God, if you exist, knock me off of this desk." (Now take note that he did not specify how God should knock him off the desk). After a few moments, he start to say, "See, there is no God." But before he can finish, one of his students gets up and knocks him off the desk. The professor asks the student, "Why did you do that?"
There was more to the story as I first heard it because the person telling it was making another point. My point here is that the professor in this story laid out what he would accept as proof that God existed. That proof was that he be knocked off of his desk. But when he was knocked off of his desk, he did not accept it as proof of God's existence. He wanted to know why the student acted as he did. This is all too often how we see things in this life. We ask God for something. Then when it happens by means of something that can be explained by natural causes we dismiss it as not being the hand of God.

Psalm 119:153-176
Today we come to the final three stanzas of this psalm. The psalmist continues to speak of the joy and satisfaction in following God's laws and commands. The psalmist again and again says things like:

"I have obeyed your laws,
for I love them very much."
Yet in the end he admits that for all of his love for God's commands he has fallen short and needs God's help to fulfill them:
"I have wandered away like a lost sheep;
come and find me,…"
That is also my prayer for I know that much as I try to follow God's commands I fall short. As Paul says in Romans 7, "I want to do what is right, but I can't. I want to do what is good, but I don't. I don't want to do what is wrong, but I do it anyway." Come and find me Lord, for I am a lost sheep. I know that only through Your power can I be freed from my slavery to sin.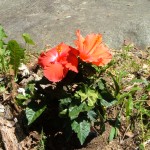 Proverbs 16:14-15
Today's proverb relates the importance of staying on the good side of those with political authority. We, as Christians, may answer to a Higher Authority than those with political power, yet they still have the ability to make our lives miserable or more pleasant. We should respect political authorities and obey their instructions, unless those instructions go against the will of God.